Yin yoga teacher, certified by Paul Grilley (500h), almost 900h of TT-level courses, plus many workshops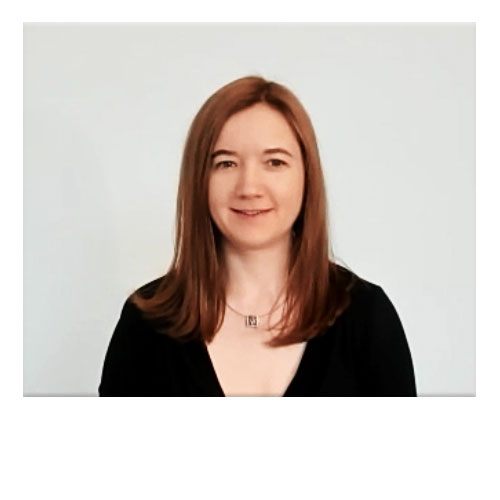 Dace started to practise yoga in early 2005 as part of upgrading the quality of life after moving from Latvia to Brussels. For a few years, she enjoyed the flow and effort of Ashtanga practice, then was led to appreciate other yoga styles such as Iyengar, Anusara and Somatic yoga.
A major turning point in her practice was Yin yoga and anatomy teacher training with Paul and Suzee Grilley (initiators of Yin yoga) in 2010. It opened wide new doors to asana exploration and reconnection with one's body. Since then, Dace has completed several more Yin yoga teacher training courses with the Grilleys (2012–2018) and other internationally renowed teachers such as Bernie Clark (2014), Sebastian Pucelle and Murielle Burellier (2015), Joe Barnett (2016), and Jo Phee (2019) as well as several workshops with Sarah and Ty Powers, Donna Farhi, Max Strom, Amy Matthews and yet many others.
Dace started teaching weekly classes in 2012, workshops in 2014, and loves both since the very beginning. Since 2015, she also teaches 20h anatomy module of the Brussels Yoga Loft Ashtanga Yoga TT; and since 2018 — her own Yin yoga and functional anatomy TT.
In 2017, her life was enriched by Unitary Reiki, crystal energy and esoteric meditation courses; subsequently followed by inner parts work, systemic constellations, the "Energy Codes" by Dr Sue Morter, and yet others. Currently, Dace is pursuing professional certification with Claire Zammit to become a coach and group facilitator for empowering self-actualizing women.
While she loves to share her enthusiasm for Yin yoga and functional anatomy, Dace's deeper passion is help unfold your soul's path and embody higher potentials.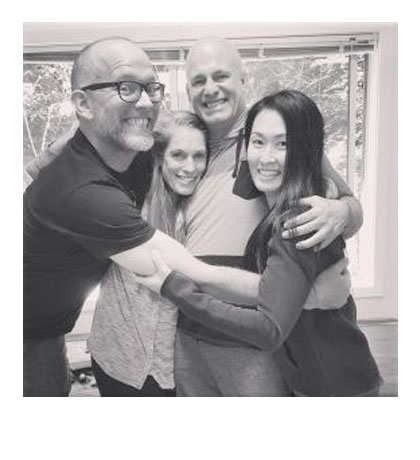 First of all, I would like to express my deep gratitude to all the inspiring, thought-provoking teachers and souls that I have met over the years and to their teachers and teachers' teachers…, as well as my family, colleagues, friends, students, guides and many, many others who have touched my life in a meaningful way. It is because of You that I am walking my path. Thank you for your encouragement and for showing me the way! I bow to you with gratitude. May you be well! May your inner Light shine brightly! Namaste.
Photo: My beloved Yin yoga, functional anatomy, Bhagavad Gita, and chakra meditation teachers Paul and Suzee Grilley, with their loooong time assistants Joe Barnett and Jo Phee – very experienced and very knowledgable teachers themselves. What a blessing to know you!
"I had the pleasure to take part in a 20-hours anatomy class given by Dace during my YTT. I feel so grateful for everything I have learned from her during that condensed experience. Her teaching technique felt unique and super efficient. Encouraging me to question myself and search not for "the", but for "my" answer. She really empowered me. Bonus: she has an uplifting personality and her humour is both cunning and delightful. Thank you from all my heart!"
Claire D.
"I would wholeheartedly recommend the Yin yoga introduction course. Dace is precise, clear, and she weaves a subtle sense of humour into her teaching."
"I really enjoyed the workshop 'Anatomy fun for yogis' and was surprised that learning about bones and muscles can be so interesting. Learning to take my unique shape into account and understanding the difference between tension and compression will help me to improve and develop my personal yoga practice safely. Also I loved Yin yoga practice and relaxation, it was a very rewarding weekend!"
"Dace did a really great job bringing Yin Yoga into the spotlight by organizing these two workshops: Introduction to Yin Yoga and Yin Yoga Workshop on Energetics, giving the opportunity to learn about Yin yoga in a more thorough and in depth way than a regular class would allow. The practice left me peaceful, relaxed and grounded, and the whole session brought a calming and soothing effect, at the same time providing nourishing insights for the mind and opening ways to delve deeper into the exploration of Yin yoga. Last but not least, the beautiful space of Shanti Home adds the extra grain of gleam; the place fully deserves its name and it stands up to it!"
"It exceeded my expectations. I never thought that I'd love anatomy. I thought it would be boring and difficult but it turned out to be fun!"
"Dace is an incredible teacher that opens your eyes on the way you perceive the Body. She has a fun way of teaching that really make you remember things."
"Those 20 hours of anatomy class changed my mind and the way I treat my body and other's bodies. A new passion was born with this introduction and Dace's method is awesome allowing us to learn as much as possible in only a few hours. Thanks!!"
Paola
"Dace shared with us during two weekends the basics of anatomy with a special focus on variations in human bodies. Her teaching technique is very playful and allowed me to understand and remember quite easily the parts of the body and their function. Her explanation about body variations was enlightening and will definitely change the way I adjust my body in my own yoga practice and how I will guide my students through theirs! Your body, Your yoga!"
"Thank you so much for sharing your knowledge with us! You are an inspiring teacher!"
Fiona
"Dace is a source of knowledge and positive energy that makes anatomy super funny and interesting to learn. She shares not only deep knowledge but a complete way of living as a yogi and taking care of yourself. Really inspiring!"
"Really wonderful person and teacher with many skills, such as teaching, sharing and empowering students. Thank you!!!!"
Wendy
Yin yoga is a gentle and calm yet intense practice for all levels of flexibility and fitness.
Yin yoga is a gentle and calm yet intense practice for all levels of flexibility and fitness. With basic anatomy principles in mind, it accommodates each person's unique body type, respects our borders and develops patience with oneself. With primary focus on stretching thighs, hips and back, Yin yoga may help to re-establish a healthy joint movement and alleviate fascia-related pain. Long held stretches stimulate energy channels (nadis or meridians), relax the nervous system and, over time, serve to prepare both body and mind for meditation. Yin yoga — for your body and soul.
If you would like to know more about Yin yoga, please visit yinyoga.com, which is a rich source of information on the subject.
I'd love to hear from you!
If you have any questions about a workshop or a trial Yin yoga class or if you have any questions/suggestions related to this website, I would love to hear from you!
E-mail: dace[@]mandalaoflife.com
Phone: +32 (0)493 655 584